!onMouseover Link CSS Script-© Dynamic Drive (www.dynamicdrive.com). For full source code, installation instructions, 100's more DHTML scripts, and Terms Of Use, visit dynamicdrive.com-->
The NEW Challenger Clipped Wing Light Sport Special (LSS)
Features: All the standard Clipped Wing Special options, Hegar Disk brakes, Complete Instrument Package with pre-cut aluminum panel, vertical card compass, spring aluminum landing gear with no cross cables, heavy duty Hegar disc brakes, fuel gauge package, wheel pants, streamline strut, jury strut and horizontal stabilizer fairings, gas strut nose gear, 10 gallon tank ($400 more for 17 gallon aluminum tank), new style tail (see pics), Quad City electric start with oil injection (also retains pull start), 503 DCDI engine, 12 foot spars with hand formed fabric covered wing tips (total span approximately 26') , 9.5" - 2/3 span ailerons, new style leading edge wrap (half the weight of current LE wrap), new cockpit and doors, and many other little things too numerous to mention. Empty weight is 460 lbs.
Email us: sportplane@uflyit.com
386-738-4444
We respond to ALL email messages and phone calls.
If you have a question, we want to answer it.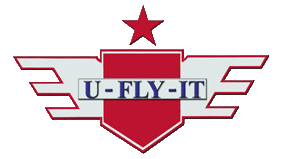 Copyright 2010, U-FLY-IT Light Sport Aircraft, LLC. All rights reserved.