!onMouseover Link CSS Script-© Dynamic Drive (www.dynamicdrive.com). For full source code, installation instructions, 100's more DHTML scripts, and Terms Of Use, visit dynamicdrive.com-->
Click Here to Have Your Aircraft Assembled
Sailcloth
Mylar
Stits (Poly-Fiber)
Initial Cost
Included with the kit at no additional cost
Included with the kit at an additional cost of $250
Included with the kit at no additional cost
Ease of Assembly
Easy
Easy
More difficult and time consuming
Longevity
Life expectancy of approximately 7-8

years (a)
Life expectancy of approximately 7-8 years (a)
Life expectancy of approximately 20 years (a)
Paint
None required (c)
None required (c)
Required
Weight
Lighter than Stits
Lighter than Stits
Aircraft will be heavier
Graphics
Easily applied
Easily applied
Easily applied
Replacement Cost
$1,000 to $1,200
$1,200 to $1,400
$1,500 to $4,000 (b)
Replacement Time
2 days
2 days
2 to 3 weeks
(a) If constructed using the Poly-Fiber process, including 3 coats of Polyspray (silver) for UV protection on Stits wings. Longevity estimates also assume the aircraft is hangared.
(b) Includes covering material, paint and related liquids, (and paint labor at higher estimate)
(c) Wing tips are still covered in Stits, and require painting, but the main surface of the wing does not.
Email us: sportplane@uflyit.com
386-738-4444
We respond to ALL email messages and phone calls.
If you have a question, we want to answer it.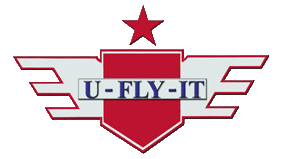 Copyright 2017, U-FLY-IT Light Sport Aircraft, LLC All rights reserved.