!onMouseover Link CSS Script-© Dynamic Drive (www.dynamicdrive.com). For full source code, installation instructions, 100's more DHTML scripts, and Terms Of Use, visit dynamicdrive.com-->
Click Here to Visit Our Online Store!
Current Prices for Kuntzleman Products are:
Single Magnum, (Smart Strobe model, AC/DC Operation)
$149
Double Dual Magnum, (Smart Strobe model, AC/DC Operation)
248
Double Dual Magnum, (12 volt DC Only Operation)
228
Triple Magnum 3 Light System, (12 volt DC Only)
375
Double Dual Magnum with COMBO heads
388
Smart Double Dual Magnum with COMBO heads
408
Triple Magnum 3 Light System with COMBO heads
528
SC 103 Self Contained, (12 Volt DC Only Operation)
9

9

Colored Strobe Heads for any of the above (in addition to listed price)
10
Red and Green Position Lights (price is for set including one of each color)
35
Standard Streamline Wing Tip Mounted Head
50
Hot Box (Complete Electrical System)
240
DC Power Distribution Circuit
38
All prices subject to change without notice. All prices are less shipping charges.
The Combo Heads are Streamline Wing Tip Strobe Heads combined with position lights.

Very bright LED lamps are used to make RED (left), GREEN (right) and WHITE (aft).

The Combo head is the same

size as our original or standard Streamline Head to facilitate using the same lens cover and adapter plates.

The Combo Head's strobe bulb works with any of the Magnum strobe drivers and the position lights draw only 300 milliamps of current for each head when powered by the aircraft's 12 volt electrical system.

They surface mount the same as the standard Streamline Head and weigh less than 3 ounces each.

The entire light fixture is machined from solid aluminum and anodize coated to heat sink the high wattage LED lamps.

Each head, when sold separately consist of one Combo head, either Red or Green, 25 ft. of 5 conductor SHIELDED wire (3 for the strobe & 2 for the position lights), all of the pins, plugs, heat shrink, and mounting hardware.
Click Here to Have Your Aircraft Assembled
Email us: sportplane@uflyit.com
386-738-4444
We respond to ALL email messages and phone calls.
If you have a question, we want to answer it.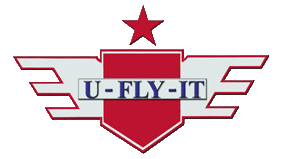 Copyright 2013, U-FLY-IT Light Sport Aircraft, LLC All rights reserved.