!onMouseover Link CSS Script-© Dynamic Drive (www.dynamicdrive.com). For full source code, installation instructions, 100's more DHTML scripts, and Terms Of Use, visit dynamicdrive.com-->
Click Here to Have Your Aircraft Assembled
| | | | | |
| --- | --- | --- | --- | --- |
| Specification | Challenger Ultralight | Challenger II | Challenger Special | Challenger II Special |
| 0 | 0 | 0 | 0 | 0 |
| Wingspan | 31.5' | 31.5' | 26' | 26' |
| Length | 18.5' | 20' | 18.5' | 20' |
| Height | 6' | 6' | 6' | 6' |
| Wing Area | 142 sq. ft. | 173 sq. ft. | 120 sq. ft. | 143 sq. ft. |
| Engine (Standard) | Rotax 277, 28 HP | Rotax 447, 42 HP | Rotax 477, 42 HP | Rotax 503, 52 HP |
| Engine (Optional) | Rotax 477, 42 HP | Rotax 503, 48/52 HP | Rotax 503, 48/52 HP | |
| Empty Weight | | | | |
| Useful Load | | | | |
| Ultimate Load Factor | +6, -4 | +6, -4 | +7, -4 | +7, -4 |
| Build Time (1) | 40-60 hours | 40-60 hours | 120 hours | 150 hours |
| Field Assembly Time | 20 minutes | 20 minutes | 30 minutes | 30 minutes |
| Airframe Type | Aluminum Tube | Aluminum Tube | Aluminum Tube | Aluminum Tube |
| Standard Covering | Sailcloth and Dacron | Sailcloth and Dacron | Superflite | Superflite |
| Optional Covering | Superflite | Superflite | 0 | 0 |
| | | | | |
| Performance: | Challenger Ultralight | Challenger II | Challenger Special | Challenger II Special |
| 0 | 0 | 0 | 0 | 0 |
| VNE | 100 mph | 100 mph | 120 mph | 120 mph |
| Top Level Speed | 63-90 mph | 75-90 mph | 95-105 mph | 100 mph |
| Cruise Speed | 55-75 mph | 65-75 mph | 75-90 mph | 85 mph |
| Stall Speed (solo) | 25 mph | 22 mph | 28 mph | 32 mph |
| Stall Speed (dual) | 0 | 30 mph | 0 | 37 mph |
| Climb Rate (solo) | 700-1200 fpm | 1200 fpm | 1000-1400 fpm | 1200 fpm |
| Climb Rate (dual) | 0 | 700 fpm | 0 | 700 fpm |
| Take Off Roll (solo) | 100-200' | 100' | 100-150' | 125' |
| Take Off Roll (dual) | 0 | 200' | 0 | 250' |
| Glide Ratio (solo) | 10 to 1 | 11 to 1 | 9 to 1 | 10 to 1 |
| Glide Ratio (dual) | 0 | 9 to 1 | 0 | 8 to 1 |
| Service Ceiling (solo) | 12,500-14,500' | 14,000' | 14,000' | 14,000' |
| Service Ceiling (dual) | 0 | 12,500' | 0 | 12,500' |
| Fuel Burn, Cruise | 1.5-2.2 gph | 2.3-4.0 gph | 2.3-3.0 gph | 3.5 gph |
All performance data is based on an average 170 lb. pilot and average sea level conditions. Assembly time estimates are for assembly of the basic airframe only, and do not include time required for installation of options, instruments, painting, etc.
"One of the most popular designs on the planet."
"Few planes can deliver more confidence so quickly."
"The Challenger is a friendly pussycat to fly."
"The Challenger gives 'turn on a dime' new meaning."
"Veteran and novice pilots alike can appreciate the great ease of takeoffs and landings in the Challenger."
"The plane is so easy to take off and land, a novice could become proficient quickly."
"This is a good plane for many pilots. It has few negatives and lots of positives: wide speed range, a hard working wing, low price, established reputation, comfortable cabin, good factory support."
"The truth is, for the average ultralight flyer, the Challenger line represents exceptional value in a good performance package with a strong safety record. Need I say more?"
EMAIL US: sportplane@uflyit.com
386-738-4444
We respond to ALL email messages and phone calls.
If you have a question, we want to answer it.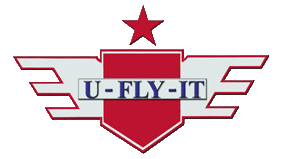 Copyright 2004, U-FLY-IT Light Sport Aircraft, LLC All rights reserved.